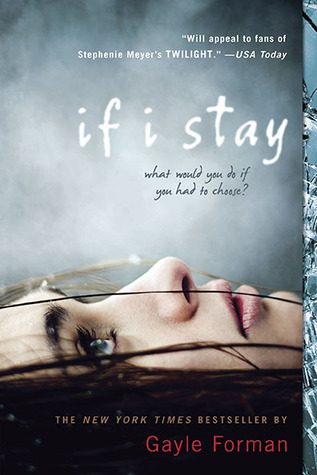 If I Stay
By Gayle Forman
Publication Date: April 2nd 2009
Rating: 5/5 stars
On a day that started like any other,
Mia had everything: a loving family, a gorgeous, admiring boyfriend, and a bright future full of music and full of choices. In an instant, almost all of that is taken from her. Caught between life and death, between a happy past and an unknowable future, Mia spends one critical day contemplating the only decision she has left. It is the most important decision she'll ever make.
Simultaneously tragic and hopeful, this is a romantic, riveting, and ultimately uplifting story about memory, music, living, dying, loving.
My Thoughts
I am probably the last person on earth to read this book! I don't know what took me so long but my gosh this book is amazing. It is emotional, funny at times and I just couldn't help but smile when I had finished this book. Believe it or not I actually finished this book in a day, I know I have tried to stop doing that all the time. Each and every page pulled me in and I couldn't help but keep turning the pages until I realised I was at the end!!
What I loved about the book was the idea of Mia having to choose if she wants to live anymore. It is not like she is just is hearing the people around her she is like a ghost but she is not dead. What really made me tear up was when her Grandpa was telling her to that is is her choice to live and he believes that she is out there watching.
The Romance. It is actually just perfect. We see how they develop in their relationship through flashbacks but it isn't just about them saying I love you. They talk about the fun times they share together and how music connects them in such a special way. I'm a lover of music myself and I love how the two worlds of classical and rock collided.
Overall, I definitely wod recommended this book. It is sure to make you shed a few tears. I think that lately I have been reading so many emotional bookmarks but they are so good!! The movie for this book is brilliant as well so make sure you check that out too!! Plus Jamie Blackley is the definition of dreamy!!
Keep Reading,
Naomi...xxx