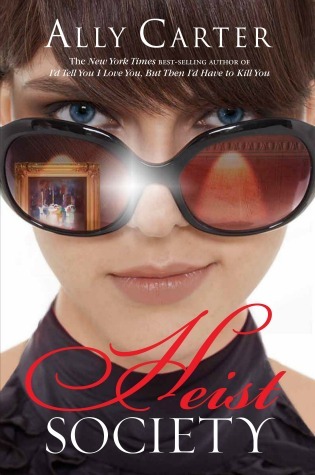 Heist Society
By Ally Carter
Publication Date: February 9th 2010
Rating: 4/5
When Katarina Bishop was three, her parents took h on a trip to the Louvre…to case it. For her seventh birtscholatarina and her Uncle Eddie travelled to Austria…to steal the crown jewels. When Kat turned fifteen, she planned a con of her own—scamming her way into the best boarding school in the country, determined to leave the family business behind. Unfortunately , leaving "the life" for a normal life proves harder than she'd expected.
Soon, Kat's friend and former co-conspirator, Hale, appears out of nowhere to bring Kat back into the world she tried so hard to escape. But he has a good reason: a powerful mobster has been robbed of his priceless art collection and wants to retrioeve it. Only a master thief could have pulled this job, and Kat's father isn't just on the suspect list, he is the list. Caught between Interpol and a far more deadly enemy, Kat's dad needs her help.
For Kat, there is only one solution: track down the paintings and steal them back. So what if it's a spectacularly impossible job? She's got two weeks, a teenage crew, and hopefully just enough talent to pull off the biggest heist in her family's history--and, with any luck, steal her life back along the way.
My Thoughts...
Katarina has always been a criminal. It runs deep into her blood and once she has escaped it it turned out that she always finds herself running back. Katarina lives the dangerous lifestyle and when a deadly criminal thinks her father has stolen one of the worlds most valuable paintings from him she is determined to get them back. But there is only one issue, she had two weeks to track down these paintings but all isn't easy. Her uncle has told her to step back and let the job be done but Katarina has to somehow gather these paintings and steal from one of the most surveillancesurveillanced art museums in the world. What could a group of teenagers do?
I'm a massive fan of Ally Carter and when I saw this in my school library I couldn't help but pick up the book. After enjoyed the Gallagher Girls series, although I havent finished the series yet, I was already quite used to Ally Carter's writing style which is more relaxed and is exhilarating. When reading this book I almost felt like jumping in with all the characters and joining in with their heists and zipping around Europe with her. I also liked how it was all But the action and I felt like I was on th edge of my seat when I was reading it. I enjoyed the book so much that I ended up finishing it in 2 days!!
The characters are each different in their own way and I loved how Katerina was a character who never gave up even though people told her to step back. I also loved how she was always there to protect and help her friends even if it meant endangering herself. Hale, the main male character, and Katerina's relationship as friends is so sweet, they always do things together and are the leaders of the whole group of teenagers. They all knitted well together as a team and together bravely attempt to do something which could ruin their lives.
What stopped me from giving the book a full on 5 stars was that it was quite unrealistic. I doubt any normal group of teenagers however many years they have trained for would not be able to do anything of such a high level without being rattled out by someone. But hey, that's the beauty of fiction. Also, I felt like the villain in the book wasn't intimidating enough and didn't cause as much havoc to make the book exceptional and almost flawless. There just wasn't enough evil for me and I love a good villain to secretly take sides with!
Overall I thought this was a brilliant, action-packed book which you would enjoy if you are a fan of Ally Carter or a lover of thief based books.
Keep Reading,
Naomi...xxx