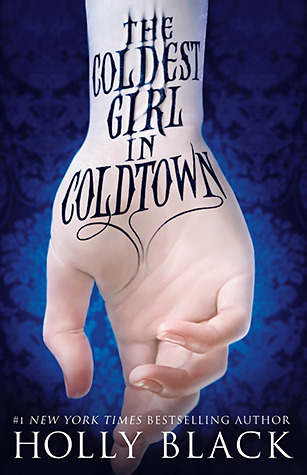 The Coldest Girl In Coldtown
By Holly Black
Publication Date: September 3rd 2013
Tana lives in a world where walled cities called Coldtowns exist. In them, quarantined monsters and humans mingle in a decadently bloody mix of predator and prey. The only problem is, once you pass through Coldtown's gates, you can never leave.
One morning, after a perfectly ordinary party, Tana wakes up surrounded by corpses. The only other survivors of this massacre are her exasperatingly endearing ex-boyfriend, infected and on the edge, and a mysterious boy burdened with a terrible secret. Shaken and determined, Tana enters a race against the clock to save the three of them the only way she knows how: by going straight to the wicked, opulent heart of Coldtown itself.
This book is the mother of all books. I am usually sketchy when it comes to books about vampires and sometimes find myself banging my head against the table asking why some of them had to be so terrible. This turned a completely new page to me. It wasn't a hopeless romantic book, it wasn't about being saved every minute by a pale hunk who 'glistened under the sun' it was different and that was what I loved about it. Who would've thought of such a great concept and I really do congratulate Holly Black. I haven't been able to find time to sit down and read for hours but this book had me on the edge of my seat. The plot twists, the sneaky characters and the flashback!
In addition, I loved how the author added in quotes from many different authors about death and it suddenly added a sense of darkness to each chapter and you sit there thinking whether or not it would link to it. I also loved how in between each chapter there was either a flashback or someone doing something outside of the gates. I was hooked! This book would make a perfect horror movie, I could already imagine the dark setting and the endless parties! It makes me want to go to a Coldtown.
The ending of this book killed me! I sat there for ages flipping around the pages craving more but sadly I was greeted by plain sheets of paper. The ending was perfect, I loved how it took you back to a game which is mentioned in the first chapter. This is by far the best book I have read so far this year! This has changed my views on vampire novels and has now set my standards higher.
Overall, I would give this book a solid 5/5. The quick pace and the mysterious romance made it untouchable. I never thought that such characters could suddenly turn into monsters.
Keep Reading,
Naomi...xxx