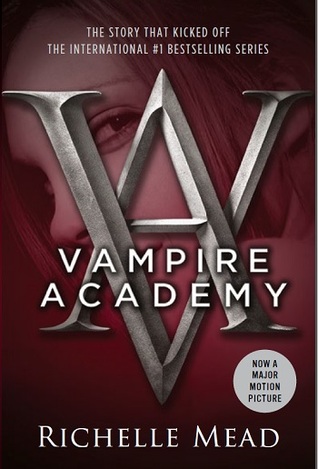 Vampire Academy
By Richelle Mead
Publication Date: August 16th 2007 (This edition August 2013)
Rating: 4.5/5
St. Vladimir's Academy isn't just any boarding school—it's a hidden place where vampires are educated in the ways of magic and half-human teens train to protect them. Rose Hathaway is a Dhampir, a bodyguard for her best friend Lissa, a Moroi Vampire Princess. They've been on the run, but now they're being dragged back to St. Vladimir's—the very place where they're most in danger. . . .
Rose and Lissa become enmeshed in forbidden romance, the Academy's ruthless social scene, and unspeakable nighttime rituals. But they must be careful lest the Strigoi—the world's fiercest and most dangerous vampires—make Lissa one of them forever.
Wow. That is the only word I can use to describe this book. It has everything I wish for in a book. There is action, fiestiness characters and a teeny bit of romance. I| under estimated this book so much due to the fact it was about Vampires and I thought I wouldn't be able to handle it without throwing the book onto my lap and questioning life, but oh my I whizzed through this book faster than you can say Vasilisa Dragomir! That is how good it was!!
Vampire Academy follows the life of the rebellious and frail Rose Hathaway and Lissa Dragomir. They do already have a reputation of running way from St Vladimir Academy and Rose has been put on special watch. Lissa is a vunerable Moroi with no elemental powers and relies on Rose her dhampir guardian to protect her from their arch enemy the Stigori who hunt to kill. When coming back rumors have been spread putting a bad image on both of them. Lissa is usually the innocent one and Rose the reckless but could their roles be switched?
I absolutely loved the
fieriness within the book, I also liked the little parts of teasing to eachother like normal kids would do
in a high school. It wasn't all about Vampire love and biting people it wasn't the typical vampire book. It didn't talk about each characters urges to bite the humans around them it was just an everyday life but the only difference being they were not human. I also found interesting was the part about 'bonds' and how it is a special gift where a guardian can feel his/her emotions of go inside their head and see what they see I thought that was awesome.
The characters. The character development was amazing. Although we only saw snippets of some I could instantly remember who each and everyone was. Sometimes what happens in books is that the author would introduce a whole bunch of characters at once and then halfway through the book they suddenly pop up, well that didn't happen. Each of their personalities were shown through, I was also able to go through the story with them and I felt like I was part of the book.
Overall, this would be a must to your bookshelf. If you haven't already add it to your goodreads list now!! It is amazingly funny, interesting and it draws you in on the first words. Maybe I have finally found what type of books I like; VAMPIRE BOOKS!! After reading The Coldest Girl in Coldtown (mindblowing book) and this one I really do want to get into reading more fantasy type of books. If you could, recommend some good vampire themed books for me to read!
Naomi...xxx