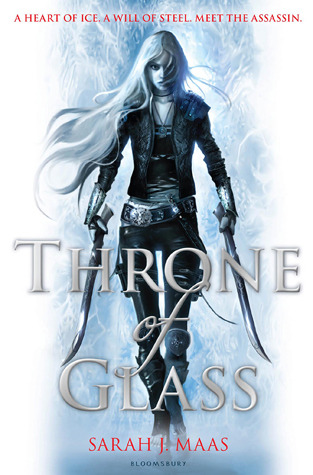 Throne Of Glass (#1)
Sarah J. Maas
Publication Date: January 1st 2012
Rating: 10/5 (It was that good!!)
Meet Celaena Sardothien.
Beautiful. Deadly.
Destined for greatness.
In the dark, filthy salt mines of Endovier, an eighteen-year-old girl is serving a life sentence. She is a trained assassin, the best of her kind, but she made a fatal mistake: she got caught.
Young Captain Westfall offers her a deal: her freedom in return for one huge sacrifice. Celaena must represent the prince in a to-the-death tournament—fighting the most gifted thieves and assassins in the land. Live or die, Celaena will be free. Win or lose, she is about to discover her true destiny. But will her assassin's heart be melted?
MY THOUGHTS
The front of this book claimed that it was 'hotter' than the Hunger Games and I can't help but agree with that statement. This book is filled with sass, an inch of romance and a tonne of fighting. I was a bit iffy when I first saw this book, it didn't look like my type of book until one of friends convinced me to read it. I do not regret reading this book at all! I am so glad I found this series as I am obsessed!!!
Celaena is a former assassin who has been sent to a death camp because she was caught. After pulling through a whole year and nearly escaping she is finally offered freedom from the Prince, Dorian. No one knows who she really is and has to go under an alias to hide her true identity as the royals didn't want to the court to know that they were afraid of a girl. She is trained once more by The Captain Of The Guard as it put against many other criminals like her to become The King's Assassin. Filled with fantasy, fun and swoon worthy characters this is a book which you would throw your money at the bookseller for!
What I loved most about the book were the characters. They were all developed well and I was screaming at them whenever they did anything wrong (In a good way) and shouting 'YASS' whenever they did something I agreed with. They were all developed enough and there weren't too many being thrown in my face. My favourite character would have to be Nehima the Princess as she is a determined and good willed person.
I also loved the story line in this book. It injected an element of mystery which was fun trying to solve what was going on. Sometimes you would think that all the clues would lead to something but then it would twist and have you at the edge of your seat! I liked the idea having a female character battling against men and proving her point as she is looked down upon as a dainty women. Although there is a sprinkle of romance it definitely isn't a love triangle which gave it a massive thumbs up!!
Overall I would recommend this book to anyone even if you are a fantasy hater, this will change you for the better. As a person who thinks that nothing would ever beat the Hunger Games they both do have the fighting parts but I would say these are two completely different books. I can't wait to pick up the second instalment to the series!!
Keep Reading,
Naomi...xxx