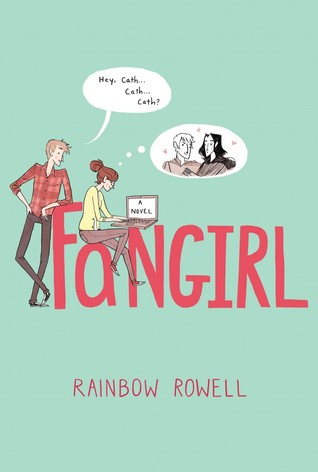 Fangirl
By Rainbow Rowell
Publication Date: September 10th 2013
Rating: 5/5
Cath is a Simon Snow fan.
Okay, the whole world is a Simon Snow fan...
But for Cath, being a fan is her life—and she's really good at it. She and her twin sister, Wren, ensconced themselves in the Simon Snow series when they were just kids; it's what got them through their mother leaving.
Reading. Rereading. Hanging out in Simon Snow forums, writing Simon Snow fan fiction, dressing up like the characters for every movie premiere.
Cath's sister has mostly grown away from fandom, but Cath can't let go. She doesn't want to.
Now that they're going to college, Wren has told Cath she doesn't want to be roommates. Cath is on her own, completely outside of her comfort zone. She's got a surly roommate with a charming, always-around boyfriend, a fiction-writing professor who thinks fan fiction is the end of the civilized world, a handsome classmate who only wants to talk about words... And she can't stop worrying about her dad, who's loving and fragile and has never really been alone.
For Cath, the question is: Can she do this?
Can she make it without Wren holding her hand? Is she ready to start living her own life? Writing her own stories?
And does she even want to move on if it means leaving Simon Snow behind?
My Thoughts
Cathy is a twin. Her and her sister have always been like two peas in a pod, they had the same hair, shared the same clothes and wherever Wren went Cath went. They even went to prom together. When they both decide to go to the same college Wren doesn't want to share a room anymore, write Simon Snow fanfictions anymore or look and dress the same anymore. That's when Cath decides she wants to stay the same because she enjoys writing fan fictions and she likes visiting her crazy dad at home so she does that. Now she is stuck with an aggressive roommate, Reagan, who looks like she eats puppies for breakfast and her 'boyfriend' who is constantly over who talks to Cath more to Reagan. Now Cath has to learn how to grow up and step into a big world without her sister's shoulder to lean on.
Fangirl is probably one of my favourite books I have read this year. I was drawn to ever single page and my mum was constantly telling me to put the book down at the dinner table! Cath was an introvert, she didn't even turn up to meals because she was scared to meet people and lived off protein bars and peanut butter. She felt uncomfortable surrounded by people and especially boys. She takes creative writing classes even though it is for second years and has always struggled to find an identity and style f her own. She is either her sister or Gemma T. Leslie (author of fiction fantasy series Simon Snow). I like how this book shows how it's ok to be a different person from other but there is a time where you need to branch out.
I adored the romance in this book. It was there but it was subtle. They weren't jumping on each other like a pair of hormone crazy teens who had no control over their lives and it wasn't like they were love sick loonies. Although they both made mistakes and they were distance for a while it was kind of sweet how he said 'Are you still rooting for me?'. The feels just hit me so hard after reading that line and I just wanted to go out and hug Cathy and whisper to her "Go get him sisterrr!"
Also, I loved how it was all about fanfiction and how little snippets of the Simon Snow story was shown at the end of the new chapter and parts of of Cath's fanfiction Carry On. As a person who reads a lot of fanfictions whether it is Harry Potter or Teen Wolf you kind of have a connection with it and it was nice to have and experience a book character who is as real as everybody else. And I fouind out through Rainbow Rowell stalking that Carry On is actually becoming a book!! The fandom which I wanted to be real is becoming an actual book!! YESSSS!! It is coming out at around October time and I just can't!
Overall, if you are looking for a heart-warming read which will not fail to make you smile, this is the one for you!!
Keep Reading,
Naomi...xxx