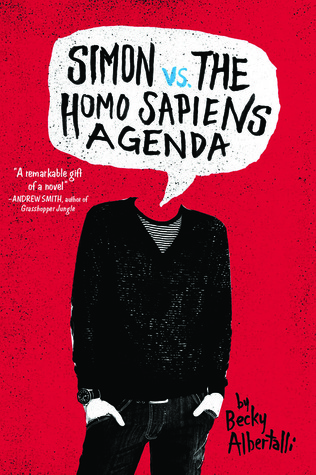 Simon vs The Homo Sapiens Agenda
By Beck Albertalli
Publication Date: April 7th 2015
Rating: 5/5 stars
Sixteen-year-old and not-so-openly gay Simon Spier prefers to save his drama for the school musical. But when an email falls into the wrong hands, his secret is at risk of being thrust into the spotlight. Now Simon is actually being blackmailed: if he doesn't play wingman for class clown Martin, his sexual identity will become everyone's business. Worse, the privacy of Blue, the pen name of the boy he's been emailing, will be compromised.
With some messy dynamics emerging in his once tight-knit group of friends, and his email correspondence with Blue growing more flirtatious every day, Simon's junior year has suddenly gotten all kinds of complicated. Now, change-averse Simon has to find a way to step out of his comfort zone before he's pushed out—without alienating his friends, compromising himself, or fumbling a shot at happiness with the most confusing, adorable guy he's never met.
Summary
*This book was received in exchange for an honest review*
This books follows the life of Simon, the caring, hilarious and vibrant boy who is also gay. The problem is that he is afraid to be openly gay in Georgia as he feels he will be judged. He hides it from all of his friends except for on, Blue (his alias, Simon's is Jacques). An anonymous boy who happens to go to the same school who is actually gay too. After meeting on tumblr, exchanging emails with each other and talking together every single day on how they share the same problems. These emails are sweet and is what makes them slowly fall for each other. But Simon was quite silly one day and leaves his emails up leading to another boy getting hold of them, and then screenshotting them. He is blackmailed and stuck in a trap of not revealing his secrets. With crazy things happening with friends, a dad who makes casual jokes about gay people, both parents who observe his whole life and are interested in everything plus he can't come out by himself because he is being threatened. Simon's life is getting trickier and trickier but he knows Blue will always be there. Will they finally meet?
My Thoughts
What I loved about this book was Simon's quirky personality and how he addressed himself. He was an out going character who got along with everyone who secretly hated people and he loved Harry Potter so thumbs up. I also liked how he and his family were as crazy as each other and he liked musicals. Does anyone know where the sign up sheet to be his bestfriend is? He has always been he supportive and the never-fails-to-make-you-smile type of friend. I also like his group of best friends who spend their time is Nick' s (his friend for 6 years) basement instead of partying like the rest of his year. I liked their individuality and how they visited Waffle House every single day but never got sick of it.
This story covers how hard it is for some gay teenagers to come out as they face being judged and ridiculed. Although he does know he finds it hard to tell even his friends, it shows how the internet can find you friends who you can talk to for weeks but it feels like you have known each other since birth. It also shows how Simon doesn't know if he is sure yet but Blue helps him leap out of that confined space be whoever he wants to be. I found there secret relationship sweet and it was so beautiful how they accepted each other even though they had never met each other face to face.
Overall, I do think this is a book worthy of all your time to read. You will find yourself say 'awww' out loud at all of the sweet moments. It is almost like Simon is your own friend as he is so funny and relatable!
Keep Reading,
Naomi...xxx