Hello Everbody,
Today on my blog for this tour will be the lovely Danielle of
Biblio Smiles
! Get ready for the feels people because this post is all about it! Take it away:
Sometimes I think I use books solely for the purpose of making myself cry.
Losing yourself in a good cry is cathartic, and I highly recommend it.
If you're looking for stories with unforgettable characters, beautiful dialogue, and scenes that play out vividly in your mind and heart, be sure to pick up these three reads. But please, don't forget the tissues.
Me Before You
by Jojo Moyes
(Note: Be sure to read this one before the movie comes out next year!)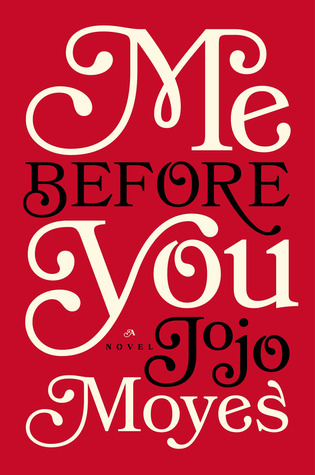 A snippet from the synopsis calls Me Before You a "heartbreakingly romantic novel that asks, What do you do when making the person you love happy also means breaking your own heart?"
The majority of the book's narration is through the point of view of Louisa Clark. She is chatty, and pleasant, and incredibly comfortable in her hometown. When she loses her job at a cafe and interviews for a caretaker position, she gets a real wake-up call.
She becomes a companion for Will, a thirty-something quadriplegic who, before his accident, was a high-powered businessman with a taste for adventure. Wheelchair-bound and entirely dependent on others, Will is a shadow of his former self. Louisa soon learns that her position in Will's life holds a weight that she may not be prepared for.
This is a stunning book. It's painful, but inspiring, and life-affirming. If you're looking for a book to make you laugh, and cry, and want to get out there and live: read Me Before You. It will not disappoint.
(Hopefully the movie will not disappoint, either!)
Z: A Novel of Zelda Fitzgerald
by Therese Anne Fowler
Zelda and Scott Fitzgerald were the "it" couple of the 1920s. Fowler describes the luxurious, booze-fueled early days of the Fitzgerald marriage in such charming details that I dreamed of tagging along. I loved reading these accounts from Zelda's perspective, as she makes herself over into the flapper of Scott's stories.
Therese Anne Fowler paints a portrait of the Fitzgeralds that is relatable and touching. Zelda, a beautiful and outgoing young woman, is swept into Scott's exciting life. Despite her family's misgivings, Zelda marries Scott. This decision ultimately shapes the rest of her life.
As the years pass and the Fitzgerald's marriage is challenged by financial hardships, emotional breakdowns, and the presence of one well-written (if infuriating!) Ernest Hemingway, Fowler showcases a marriage that struggles, despite the odds. What we have here is a pair of people who are both brilliant and deeply troubled. They achieve success, but they must also live with depression and failure. There is so much emotion in these pages. I couldn't put this book down.
And the Mountains Echoed
by Khaled Hosseini
Once again, the author of The Kite Runner delivers another thought-provoking, powerful story about love and the choices we make. Hosseini's newest novel focuses on a myriad of characters from around the globe. He masterfully links the narratives together, and this kept me saying "aha!" whenever I made a new connection between narrators.
What begins as a story about a father's choice and the strong bond between a brother and sister becomes so much more. The reader is shuffled back and forth through time and place, from a small village in Afghanistan in the 1950s to modern-day San Francisco, even stopping in France and Greece. The scope of the novel seems huge at first, and overwhelming in its number of characters and their hardships, but at a certain point: it all just clicks.
"Human behavior is messy and unpredictable and unconcerned with convenient symmetries," the novel states. As the tears roll, you will understand so much about the fragility of relationships, the implications of selfishness, and the strength of love.
I think this is something that I've come to understand from all three of these books.

Books that elicit emotional responses, in my opinion, are doing their job right.

Don't you think so?
Thanks so much for having me, Naomi!