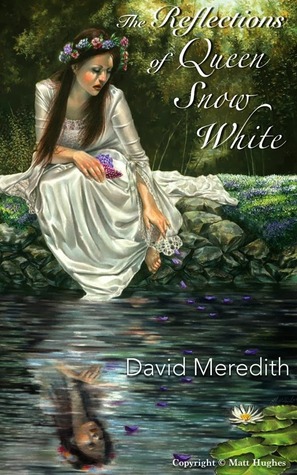 *I was kindly sent this ebook by the author in exchange for an honest review*
The Reflections Of Snow White
by David Meredith
Synopsis
:
What happens when "happily ever after" has come and gone?
On the eve of her only daughter, Princess Raven's wedding, an aging Snow White finds it impossible to share in the joyous spirit of the occasion. The ceremony itself promises to be the most glamorous social event of the decade. Snow White's castle has been meticulously scrubbed, polished and opulently decorated for the celebration. It is already nearly bursting with jubilant guests and merry well-wishers. Prince Edel, Raven's fiancé, is a fine man from a neighboring kingdom and Snow White's own domain is prosperous and at peace. Things could not be better, in fact, except for one thing:
The king is dead.
The queen has been in a moribund state of hopeless depression for over a year with no end in sight. It is only when, in a fit of bitter despair, she seeks solitude in the vastness of her own sprawling castle and climbs a long disused and forgotten tower stair that she comes face to face with herself in the very same magic mirror used by her stepmother of old.
It promises her respite in its shimmering depths, but can Snow White trust a device that was so precious to a woman who sought to cause her such irreparable harm? Can she confront the demons of her own difficult past to discover a better future for herself and her family? And finally, can she release her soul-crushing grief and suffocating loneliness to once again discover what "happily ever after" really means?
Only time will tell as she wrestles with her past and is forced to confront The Reflections of Queen Snow White.
I was extremely excited to receive this book after reading the synopsis and fell in love with it completely. The book is cleverly written and uses such mature vocabulary that is striking and gives you a better insight of the actual book. I love how it is based many years into Snow White's life and we get to know if she still has her gorgeous pale and smooth skin and her luscious dark hair, or if her seven dwarfs still serve her well. Although a short story it feels like a full on novel to me and I felt connected to the characters more than I do sometimes in a whole series of book. The author explained every detail of the book, I felt like I could visualise all the characters just by reading the first chapter of the book.
I had a better understanding of the book since I have watched Snow White and the Seven Dwarf many times so I knew who the characters were. If you don't know the story of Snow White then you might end up feeling a bit lost and clueless when you get into the book. Also just to warn any people who love to keep it clean it does involve teeny tiny bit of violence and sexual content so watch out for it and don't be so surprised, I warned you!
Overall I would rate this book a 4.5/5 stars because this book is just beautiful! It has you spellbound the minute you lay your eyes on the first words and you would carry on reading until you reach the end, wishing there were more! I honestly love the book it was a whirlwind of amazing, touching and zestful (I love that word! Click on the links below and grab yourself the book and enjoy it as much as I did!
Keep Reading,
Naomi...xxx
LINKS:
Available on Amazon here (US):
Also the author has a twitter!