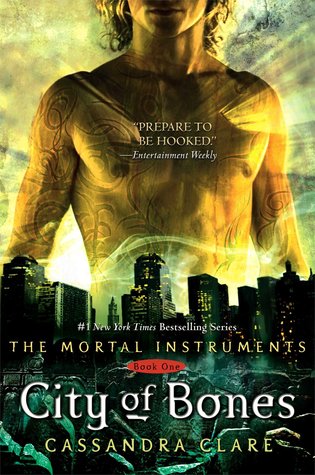 The Mortal Instruments-City Of Bones (#1)
By Cassandra Clare
Publication Date: March 27th 2007
Rating: 4/5 stars
When Clary Fray heads out to the Pandemonium Club in New York City, she hardly expects to witness a murder. Much less a murder commited by three teenagers covered with odd markings. This is Clary's first meeting with the Shadowhunters, warriors dedicated to ridding the earth of demons--and keeping the odd werewolves and vampires in line. It's also her first meeting with gorgeous, golden-haired Jace. Within twenty-four hours Clary is pulled into Jace's world with a vengeance, when her mother disappears and Clary herself is attacked by a demon. But why would demons be interested in an ordinary mundane like Clary? And how did she suddenly get the Sight? The Shadowhunters would like to know....
My Thoughts...
I first started this book in 2014 but I just couldn't get into it at all. I tried again and again to pick it up and read it but I just thought it was bad. I looked at the first pages in disgust and vowed to never touch it again. A year on and I wished that I had carried on with the book because I would've actually enjoyed the series. The only reason I put down the book was because of the opening, I just didn't get it and I thought that the whole book was going to be based on that whole thing. Plus I wanted to chuck the book across the room. I think that waiting a while and picking up the book helped me like it even more and made me realise it wasn't just a Twilight fanfiction type of things.

Clary Fray was a character I just didn't seem to like. I don't even know why, I just couldn't warm to her at al. Her and Jace just made my blood boil and it just made me despise them even more when they were even in the same room. She is like the Aria in Pretty Little Liars, the person who cares a bit too much., plays around a bit too much and you just end up not liking them at because they bug people a lot too. Although she was a strong character who was determined I just didn't agree with all of her decisions. The only reason I really like the book was because of Luke. Hodge, Magnus and Valentine. Basically all of the quite menacing characters who made the story different.
Whilst Clare's writing style could be seen as casual, I thought that it was for maybe more mature audiences and created a sense of the book not being like just any YA book out there. I thought her writing in this book was outstanding and that is what mainly made me carry on with this book. Although I did find it a bit jumpy at the start, as the book progressed it seemed to get even better.

What I really liked about the book was the plot. It was interesting, things were always happening. When I say always I mean always. It was jam-packed with action and I was literally cheering each character on. It went something like 'Yeh you run away, wait your meant to be bad right? Clary go catch that badass' Even though there might have been too much going on for some people, I found that I remembered vital parts of the book without having to look back every 5 minutes. (I only had read the first 5 pages of the book previously). The little twists in the plot made you think one thing and then you read on it hits you and then you just keep on reading. I don't really know how to explain this without giving a way too many spoilers! The massive plot twist at the end of the book just makes it beyond fabulous.
I also discovered one thing after reading this book. My book boy turn off is bare feet. That is why I didn't like Jace, he played the piano bare footed and it just made me shiver thinking about it. He was a douche and usually I would play along with that but once the no socks business is added it is all I vision about the character. When Jace took the vampire bike I would've thought 'that is so cool take me with you, I beg!' but it was the complete opposite I could just vision him without the socks and I wanted to be a bit sick to honest
Overall, I really did enjoy the first instalment to the Mortal Instruments Series! I do wish to carry it on in the future.
Naomi...xxx