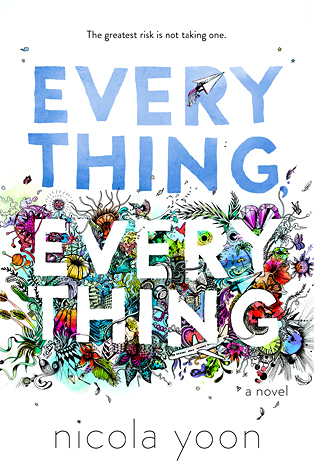 Everything Everything
By Nicola Yoon
Publication Date: September 1st 2015
Rating: 5/5 stars
*e-Arc was sent in exchange for an honest review*
My disease is as rare as it is famous. Basically, I'm allergic to the world. I don't leave my house, have not left my house in seventeen years. The only people I ever see are my mom and my nurse, Carla.

But then one day, a moving truck arrives next door. I look out my window, and I see him. He's tall, lean and wearing all black—black T-shirt, black jeans, black sneakers, and a black knit cap that covers his hair completely. He catches me looking and stares at me. I stare right back. His name is Olly.

Maybe we can't predict the future, but we can predict some things. For example, I am certainly going to fall in love with Olly. It's almost certainly going to be a disaster.
My Thoughts...
This book was the definition of phenomenal. I was so into this book I found myself reading this when I was eating breakfast, when I was meant to be going to bed, on the bus! I wanted to finish this book so badly and I haven't read a book which has captivated me so much. It was beautiully written and put together and I couldn't ask for such a mind blowing (in a good way book). I have probably not been so excited to review a book but this one had me hooked in from the start. As soon as I read the synopsis on Netgalley I had

to request it and when I was accepted I leapt across the room. Seeing that it was around. Me being me I told myself to wait until July to read the book but I actually ended up reading it in May and loving it!
If I even started to explain the synopsis to this book I will be here for hours and the amount of spoilers would be ridiculous. But I think that the actual synopsis is good enough and you will just have to read into the book to find out more!
Nicole Yoon's writing was exceptional. This is her debut and the way this book was written makes me want to read her books in the future. Nicole, you have just earnt yourself a fan. I can't really put it to words how good this book was. It was filled with love, laughter, tears and pain and it just hit me with the feels. The plot twist near the end of the book nearly killed me (don't worry I'm fine now btw). It just hit me with a rock and I just wanted to cry and rejoice at the same time but then I just looked liked an emotionally unstable female who cries over a not so emotional part of the book.
My favourite character in the book had to be Madeline's nurse Carla. She was caring, made good food and was genuinely awesome. She let Madeline do things she wasn't allowed to do just to make her feel like a normal teenager and their relationship was wonderful.
Overall. I thought that Everything Everything was an fabulous read which I will definitely be recommending to all of my friends.